Hi there! Thank you for stopping by! I am Mayisha Rahman, she/her, Class of 2021. I'm an international student from Dhaka, Bangladesh. I am an intended Biology major with an intended double minor in Health Studies and Neuroscience.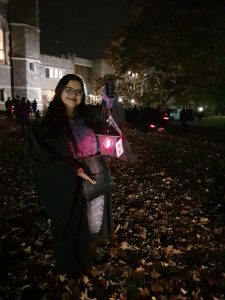 Other fun facts about me:
I love speaking about my experiences home and abroad.
I have a travel bug and am trying to know Philadelphia inside out. If I'm not in Merion Hall or in PSB, I'm probably off-campus.
I admire sunsets, the wind and all things our beautiful campus has to offer.
I speak five languages but you'll always hear me laugh more as opposed to using actual words to communicate.
I love taking pictures of the cool things we do in Chemistry lab and enjoy reading just about anything science-y.
I always try to picture a connection between social justice and health because both these causes have influenced by upbringing.
I absolutely adore food and am tackling one restaurant at a time.
Follow me on Instagram (mayisha.rahman) or add me on Facebook!