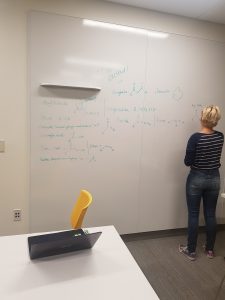 As we dive deeper into the semester, I am reminded of the beautiful summer that I had not so long ago. I went back home to Dhaka, Bangladesh and worked alongside two incredibly talented researchers in a neurobiology lab (unfortunately, laboratory based work is not for me). I had ample free time to spend with my loved ones, spent lazy afternoons beside my mother and carved my own way along the busy streets of Dhaka for the umpteenth time. Last year, freshman year, has left me feeling tired but empowered. I often found myself marveling at the things my body allows me to do, and let myself absorb every experience that life put me through. This year, I am trying not to be my usual worried self – and how can I? With the beautiful facade that is Bryn Mawr, even the most dull days seem to come with a silver lining.
Over the summer, I came into contact with a representative from Doctors Without Borders – an international humanitarian organization that acts as first responders to global crisis. Having been inspired by the super-humans who put their lives on hold simply so that they can tend to the needs of vulnerable populations made me want to do something for the organization. I was told that they've started establishing student chapters in colleges all over the U.S. This was an excellent opportunity to let the Bryn Mawr community become well acquainted with current global health issues and to also serve as a platform for advocacy for those in need. Now that the student chapter has been officially registered as a club here at Bryn Mawr, I am extremely excited to contribute whatever I can towards the organization's mission. Pictured below, is our "swag" gear sent by Doctors Without Borders HQ in New York.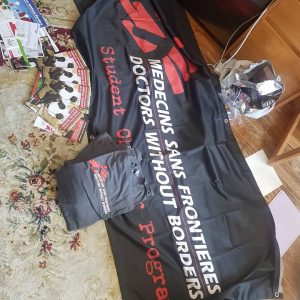 I decided to take a social epidemiology class at Haverford this year and the past week, we talked about adverse child exposures and how that may lead to poor health in adults. It's a very reading-based class, and hence, it was interesting to analyze the different studies that researchers published pertaining to the topic. One would say that it was pure coincidence when a close friend of mine introduced me to an organization named – Playgrounds for Palestine. As the name suggests, the organization relies heavily on donations to build playgrounds for children all over Palestine in hopes that amidst the conflict between Israel and Palestine, these kids will grow up with a place to play. Since 2007, the organization has successfully managed to build 42 playgrounds for children all over Palestine. I jumped on the bandwagon with my friend as we went to volunteer at the organization's annual gala held at the University of Pennsylvania on September 22, 2018. I was overwhelmed by the sense of community that persisted within the Middle Eastern community as everyone came together clad in traditional wear to support a noble cause. Dinner was traditional Palestinian food, and serving it turned out to be a fancy affair for us volunteers. Comedian Amer Zahr kept the guests' mood cheerful throughout the evening. The day was a learning process for me because I picked up some common Arabic phrases, learned more about Palestine, and had my first shot at volunteering at a fundraiser. However, one moment of the event will stand out to me the most: while my friend and I were busy at the registration table, an elderly woman wearing earrings and a shawl that reminded me of home chanced upon us. She had a few questions about the schedule for the evening. One thing led to another and the three of us soon found ourselves lost in tales of travel. Turns out, she is a Mawrter! 
As our conversation about the places we're from and the places we've been to escalated, our newfound Mawrter friend told us about her last visit to campus. It was to take part in the"ear-whispered artworks" by Tania El Khoury. She spoke of how deeply the Gardens Speak instillation had affected her and having shared the experience, we took to sharing our perspective of Tania El Khoury's work. Gardens Speak was an experience that left me feeling broken yet empowered. I would strongly urge anyone who hasn't been a part of her live art performance yet to participate in their free time.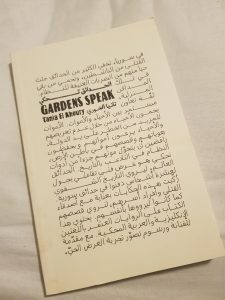 I finished my training to become a hospice volunteer for Holisticare today and am currently swamped with work. As I try to be the best possible version of myself this year and am striking a balance between five classes, work and in all the endless opportunities around me, I am looking forward to a good year.